Most days, I work out of my home office. It's a nice space – lots of natural light, a comfy chair, easy access to good coffee, hot and cold sleeping kittens. And I don't have to wear shoes.
But when you work at home, alone, you can go a little batshit after a while, looking at the same four walls (even when you picked the artwork and colors out yourself).
Some days I go to a co-working space, and let the noise of other people rush over me. There's good coffee there, too, and industrial-strength wifi, and it's near Chinatown so lunch is never a problem. *g* But sometimes I need a different view. Fresh air. No wifi.
Yep, that's in New York City. Â Really. Â We've got a LOT of parkland: some of it groomed, some of it not, some of it famous, some of it known only to the locals. Â Some of it even has wifi (hello Bryant Park I love you).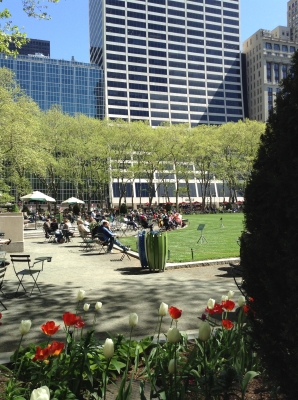 And when you're working there, you can hang out with squirrels (both black and grey), blue jays and robins, fearless sparrows, the occasional possum or a falcon, and a paradox. Â Er, a pair of ducks.
Yeah, we're not all about skyscrapers. Â Although we've got those too.

All photos are licensed under a Creative Commons Attribution-NonCommercial-NoDerivs 3.0 Unported License.