Well, that was special. I just saw someone on Facebook, who probably thinks of themselves as a perfectly decent and good Christian,  dismiss all of Judaism, Islam, and Hinduism, among others, as 'just tribal laws.'
Honey, it's ALL just 'tribal laws.' You're just prioritizing your tribe over everyone else's, and the name for that ain't pretty.
*sighs*
In other happier news, yesterday I spent the morning working on a mostly-deserted, cloudcasted beach up on Lake Samammish, which was delightful and productive but also entertaining AF, because a particular bald eagle had decided that his goal that morning was to harass a duck innocently minding its own damn business on the water, because Eagles Are Assholes.  No fish were involved, far as the observer could see.
It was less entertaining for the duck, who occasionally would lift its wings and shout "fuck you! fuck you!" at the top of its lungs, as the eagle swooped up and out of reach.  Poor duck.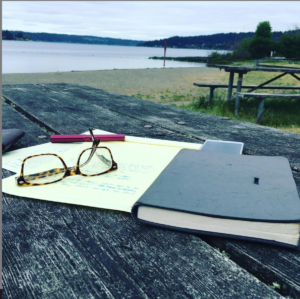 I then had a long, interesting, and very useful working lunch with a cohort, something we do every few months.   We both came out of the Trad publishing scene, but she has transitioned entirely to indie publishing, and doing quite well at it.  So I am taking copious notes, and incorporating them into my own short- and long-term planning.  Some of it's fun stuff, some of it's necessary minutia, and some of it's stuff nobody really enjoys but needs to be done anyway.
It helps, I pointed out, if you enjoy the "small business owner' side of things as well as the 'writer-person' side.  We both do, but I understand how someone who doesn't have that in their mental makeup might choose to stay entirely Trad, or throw up their hands and give up entirely.   :-(
(note: the small business mindset helps a great deal in Trad, too.  You just don't need it to survive).
And on that note, a few reminders!
The Gilman Quarterly newsletter is out, so look for that in your mailbox!
Also, I blogged yesterday over at Book View Cafe  about a thing we all do and probably need to stop doing.
…and have I mentioned recently that both WEST WINDS FOOL and GABRIEL'S ROAD are now available in trade paperback? Because they are!