Visit an American West that never was, but could have been.
A woman in search of her fate, a people looking for a new place to call home,  a young girl about to become more than she could ever dream, a magical creature trapped between What Is and what Will Be…
These stories and more welcome you to the Territory, where little is as it seems and everything is what we make of it.
Trust the Devil.  But Bargain carefully.
Amazon.com / Amazon.UK / Amazon Canada / Amazon Australia / Kobo / B&N /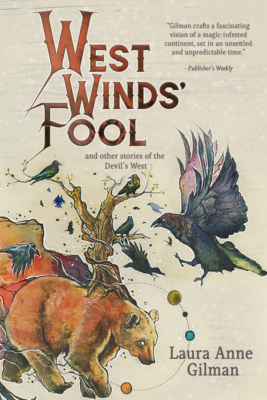 Including the brand-new novella "West Winds' Fool,"
and the never-before-seen origin story for SILVER ON THE ROAD!
Praise for the bestselling, award-nominated world of The Devil's West:
"…Skillfully plays with western folklore and history, infusing them with ambiguity and subtle strangeness to deliver a memorable adventure out on the untamed frontier." Publishers Weekly
"Gilman is magic in that junction point between the real and the imaginary."  NPR Books
"Her cocktail of Western folklore, Native American mythos, and known history…will be a particular treat to fans of the other master of that kind of mashup, Neil Gaiman."   BarnesAndNoble.com