Here's a recipe:  Take a bunch of writers.  Throw them, some tents, a bunch of laptops, and a couple of coolers of food and booze into a campsite, and put them to work for the weekend.  You get a lot of words written, a lot of stories told around the campfire, and, with a little hard work and some prodding with the marshmallow-toasting stick, you get an anthology!
Last summer, the theme was "pulling up stakes."   From a magician trying to prove his worth to rootless space denizen; to women with Grand Purpose; and engineered creatures who just want to live a normal life…. change comes, and you have to decide what you're going to do….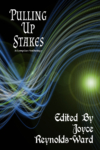 Including my "Better Places to Be," about the bonds of loyalty, adventure, and survival on a corporate space outpost….
LAURA ANNE GILMAN – Better Places to Be
MANNY FRISHBERG – Euterpe's Song
S. B. SEBRICK – Child of Two Worlds
G. DAVID NORDLEY – Run, Lagomorph
JOYCE REYNOLDS-WARD – To Plant or Pull Up Stakes
BRUCE TAYLOR -Â Â Â  Franklin
SANAN KOLVA – Mountain of Fire and Gold
IRENE RADFORD – She Made Me Laugh
LEAH CUTTER – The Ant Queen
BOBBY LEE FEATHERSTON – Made to Die
Amazon ][ B&N ][ Kobo ][ iTunes ][ Print @ Amazon