A not-so-long-ago time past, I wrote a handful of paranormal romances for Harlequin.  And what I – and readers – discovered is that while I chafe at the limits of traditional category romance…. I am very good at creating realistic romantic entanglements, with conflicts that rely on emotion rather than contrivances (aka "my characters actually TALK to the people they care about).
Alas, my inability to "stick to the script" mean that Harlequin and I parted ways with varying but mutual regret, and I redirected myself to historical fantasy.  But the plot lines would still flit through my head periodically, and I'd think, "when I have time again…."
But I didn't have time to do more than noddle at it….until oh hey, hi, Pandemic.  Perfect time to take a flyer on a poly romance novella with a paranormal kicker, right?
Those of you who read my fantasy works know that I'm more of a "happy-for-now" storyteller, and I don't shy away from doing terrible things to my characters.  But right now, I felt like we needed something a little more hopeful, a little more, well, perfect.
And to give you a little extra cash to spend on day-after-valentine's-day chocolate, the pre-order price is only (US) $1.99!
Available now for pre-order, just in time for Valentine's Day!
Amazon / Apple / Kobo / B&N / Amazon UK / Amazon AU
for readers in the EU:  Vivlio / Amazon DE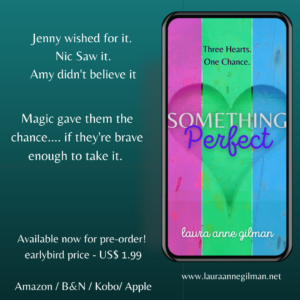 and if you're looking for an alternative to Amazon, consider buying direct via Gumroad!